Hello from Ablr.


Mission-Driven. Nonprofit.
Full Service Disability Inclusion.

Ablr is a full service disability inclusion organization, and our mission is to remove barriers for all people with disabilities. We do this by eliminating the digital divide, changing the mindsets of people and organizations, and creating pathways to employment.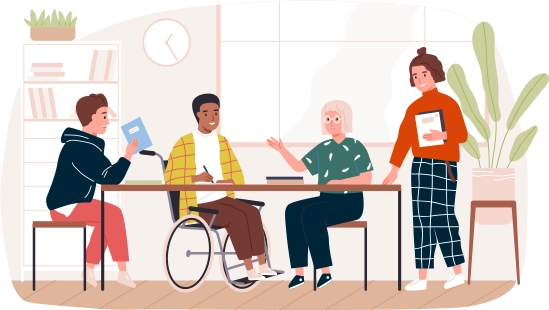 Be Inclusive. Be Accessible.
Do the Right Thing.
Mitigate Risks.
ADA Compliance + WCAG
Maximize Outcomes.
Accessible + Usable Content
Bolster Brand Equity.
Reputation + Social Impact
We All Deserve Access. We All Belong.
Let's make this a reality together.
Accessibility Services
Eliminating the Digital &
Physical Divide
Disability Inclusion Training
Changing Mindsets of
People & Organizations
Workforce Development
Creating Pathways
for Employment
"We walked into this knowing we didn't know a lot and, in a way, we felt kind of guilty that in that we should have known more. The Ablr team didn't make us feel guilty about that at all, but they were so happy that we wanted to be engaged in this work and that we wanted to build our capacity and we wanted to reach out to a different type of community and be accessible."

Lynda Holt, Executive Director of Strategic Marketing at Excelsior University
Catch the Latest on the Ablr Community
Creating and maintaining an inclusive and diverse work environment is no longer a "nice to have", it…
While accessibility tends to be overlooked in many facets, it seems especially forgotten with events…